If you're a loyal Fabindia customer, you will soon receive an invitation to their 'white glove service'. If you sign up, the retail chain's staff will ply you with customised catalogues and look books for household items, furniture, apparel and accessories and even bring to your home select items for you to try.
Customers visiting one of the 233 stores that have reopened will be met with an enhanced health safety protocol that involves steam ironing every clothing item before and after trial, and equipping changing rooms with sprays that disinfect the room every time a customer enters. Toilets have been remodelled to become hands-free zones—sensor-based faucets, soap dispensers and flushes.
Both are costly post-Covid-19 efforts to bring revenue back.
"This is a time to reimagine the business. To think that things will go back to the way they were, once the crisis is over, is wishful thinking," says Fabindia Overseas Pvt. Ltd. Chairman William Bissell whose father founded the company in 1960 as a home furnishings exporter. Fifteen years later the first store opened in Delhi. Now there are 327. Well, there were.
Overdrive To Reverse Gear
It was the end of February and Fabindia had just finalised its annual plan for 2020-21. It was an ambitious plan, targeting 30% growth, says Viney Singh, the company's managing director. The focus was on scaling the experience centers, a new mega store format launched a few years ago and one that already contributes 35% of revenue. The plan was to add 200,000 sq ft. Then the virus hit. "It was like being in overdrive mode and switching straight away into reverse gear," says Singh in a phone interview two days after my chat with Bissell.
Most of March was spent on preparing for a potential lockdown as was being witnessed elsewhere in the world. The first priority was the safety and health of employees. Then came building a work-from-home protocol across divisions. And then, working closely with a unique supply chain of over 60,000 craft-based rural producers spread across India.
"We're possibly the only retailer which sources 100% from India," Bissell tells me before he embarks on the story of Chanderi, Madhya Pradesh, one of Fabindia's first craft clusters.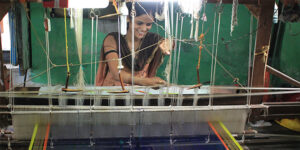 A weaver in Chanderi, Madhya Pradesh. (Photo: Fabindia).
The Crafts Network
"When I first went to Chanderi, most of the looms were idle," Bissell recounts from a time almost two decades ago. Located in the heart of India, the historically important town is famous for the eponymous lightweight sari it weaves. "In the West this would have been sold as a work of art, in India it's sold as a commodity," Bissell laments. Design interventions helped refresh the craft and its commerce leading to higher prices and higher incomes for the weavers. Bissell says he has seen almost a 100 such clusters transform.
A cluster could range from an informal village group to a producer company, a cooperative or bunkar society.
In Chanderi, the cluster's sales have risen from less than Rs 1 lakh per month in the early years to Rs 1.5 crore pre-Covid. Approximately 60% of the procurement price goes to the labourer, often a woman who most likely will spend it on her children's education or home improvement. It has a "massive multiplier effect", Bissell points out.
If you're able to pay good wages people prefer to live in their homes, rather than move to cities.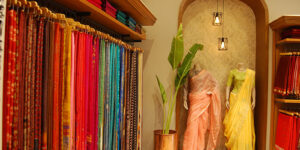 A view of the sari section in a Fabindia store. The mannequin on the left is draped in a Chanderi sari. (Image: Fabindia)
Fabindia's clusters comprise mostly of home-based workers or those living nearby. They live in extended families often with multiple sources of income. Usually, at least one family member has a stable job, say in the local government. Often these families have some land holdings and hence a source of agricultural income, too. This will help mitigate the otherwise devastating impact of the pandemic on these rural households.
Their vulnerability also stands reduced due to technology, Bissell explains. Improved broadband connectivity in recent years has prompted "a productivity revolution", he says, adding that transmitting designs, quality control, and production checks can all be done online now.
Yet, the company has had to step up support to its vendors.
Ordinarily, vendor payments take between 15-45 days. By March-end Fabindia knew it had to speed up the payment schedule. Singh says the company borrowed money and worked out a priority payment schedule for those clusters with the highest dependency on the store chain. It continued to take delivery of ordered goods even as inventory piled up. Where possible orders were deferred to minimise cancellations. The retailer then started working on ways to keep capacities running. Coveralls for frontline healthcare staff kept one group of fabric and apparel producers busy—resulting in a supply of 100,000 coveralls to the authorities. Another group of smaller vendors shifted to making masks—that now retail online at Rs 30 a piece.
But that's hardly going to make up for lost revenue.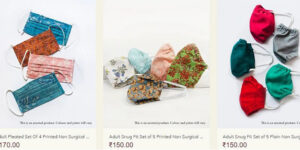 Non-surgical face masks available on the Fabindia website.
Fab Future?
Unlike many retail businesses, Fabindia was in good financial health before the virus hit. Singh says a tough March meant FY20 closed with marginal growth over the previous year's consolidated* revenue of Rs 1,148 crore. While the company operates in a very competitive retail industry, especially the crowded apparel category which contributes 60% of its revenue, rating agency Crisil counted several factors in Fabindia's favour in its last rating report of June 2019.
Strong brand positioning in the ethnic/handicraft retail segment.
Healthy operating margin of 19% in FY19 (14% in FY16).
Low debt levels (Rs 90 crore then) driven by 100% cash sales and conservative financial and working capital management.
It helped that when the pandemic hit Fabindia witnessed a complete lockdown for only 10 days. After which it was able to get requisite permissions to sell organic food items, health supplements, hand sanitisers and soaps online. Now 233 of 307 stores are open. The rest are in malls still locked down. Full operations will resume by early July, Singh hopes.
The retailer recently shut 20 stores, some of which were unviable and the others because the landlords refused to move to a revenue share agreement. "The good news is that of our standalone stores, about 50% of the landlords have agreed to a revenue share till September," says Singh. The others should agree soon, and with those that don't, the company will terminate the lease and shut the store, he says firmly. Rentals is one area of cost control, employee salaries have been cut, contractual services downsized, a flatter organisational structure is being worked on and work from home may become permanent for many, saving office costs.
All this will help offset two post-Covid outcomes—lower revenue and new costs on more elaborate changing room procedures or home trials and the like.
We expect sales this year at 60% of last year, says Singh, basing his hopeful estimate on a phased recovery. The stores that have reopened are back at 40% sales compared to last year. "By the first quarter of FY22 we should be back at pre-Covid levels".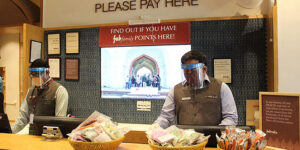 A point of sale counter at a Fabindia store. (Photo: Fabindia).
That brings us to the puzzle all retailers are trying to solve—the post-Covid customer. When will she return? What will she buy? How much will she spend?
Fab India caters mostly to urban, middle class consumers. It's short- to medium-term strategy is built on three elements.
1. Product And Pricing
The core product range will remain largely unchanged. The on-trend products, introduced seasonally or annually will shrink in number. The categories in focus right now are
Home Products: From home-office furniture to cookware and tableware for lockdown-turned chefs.
Apparel: Of course, but with an emphasis on home and comfort wear.
Healthcare: Expanding the range of organic food and wellness products. Subsidiary Organic India had its best April and May with sales up 40%.
There's more traction now in the mid- to lower-price points, Singh admits, but today already 50% of Fabindia's portfolio is in that range, he adds. "We will rationalise the share of higher price point products."
2. Omnichannel Sales
Like with all retailers, the focus now is to boost online sales, currently just 8% of revenue, and build an omnichannel platform.
3. A Reinvention
"Starting July 1, we're going to reinvent ourself," Bissell declares. I probe deeper to find out more but he sidesteps all my questions.
Is this a bet on a new customer category?
"This is going to lead to a profound shift in the consumer. We have a theory of where that shift is going to go," he says. "Younger consumers are very interested in social equity, the environment…they are not as conformist as earlier generations."
Is this an extension of retail or a new line of business?
Bissell says "this new initiative will open a new area of business for us" but it will also "take us closer to our roots (local crafts)".
Are you betting the bank on it?
"We are betting half the bank on it."
Singh was kinder. When I questioned him about the 'reinvention' he said nothing at all, except to ask—what did William tell you?
Till July then.
(As published in https://www.udel.edu February 04, 2020)