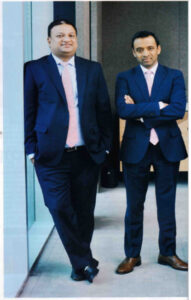 Pointing to a man on a cycle on the road, Sachin Bhartiya, founding partner, Lighthouse Fund, a private equity firm with a mid-market growth fund, excitedly remarks, "He is going to drive India's growth story." Sitting in the comfortable corner room of his office in Bandra East, Bhartiya explains, that a few years from now, this gentleman will be sporting trendy shoes, branded jeans and probably be driving a motorcycle, If not a car! "The bridge class is poised to become the middle class of tomorrow," he adds, pointing out that the middle-class segment, which is now about 55 percent of the total population, has been growing the fastest at a CAGR of 12 percent during 2001-15. This consumption theory, which forms the bedrock of Lighthouse Funds philosophy, is encapsulated in its tag line: 'Dream, Dare, scale, care'.
Bhartiya. A CA from a small town in Bihar, had worked with developmental institution IDBI and IL&FS earlier, before teaming up with Mukand Krishnaswarny and Sean Sovak in 2007, to set up a private equity fund in 2008. Krishnaswamy, a second generation US citizen, had met Sovak at Wharton. Even during his stint at Mckinsey and the private equity arm of Lehman Brothers, they had stayed in touch. Sovak was with WP Carey and had spent nearly a decade at NYSE in various capacities. With the Indian market showing signs of booming in the late 1990s, both Sovak and Krishnaswamy decided to have 'a go' at Indian markets. A reconnaissance mission for establishing opportunities for investing in India, along with a chance meeting with Bhartiya, saw the formation of Lighthouse Advisory Funds Private Limited. "And the rest is history," says Krishnaswamy. Floored by the opportunities in India, Sean (as Sovak prefers to be known) fell in love with the country and has stayed in India ever since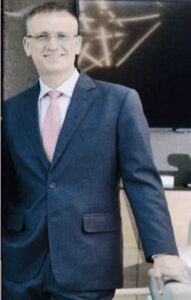 The fund, which completed 10 years recently, has invested $231 million through two funds-India 2020 fund in 2008 for about $100 million, and India 2020 fund II, for $138 million. They are now in the process of raising another $200 million for their third fund.
Marquee investors
The first two funds had seen commitments from marquee investors, including Portfolio Advisors, York Capital Management and New Providence Asset Management (in which John Vogelstein, one of the founders of Warbug pincus, is chairman). Overseas Private Investment Corporation (OPIC), US government's development Institution, which invested $42 million in the second fund and Oloyan, a Saudi conglomerate, are the other investors. IFC, which had come in as an investor in the second fund, with a commitment of $20 million, has recently committed another $25 million, while IFC AMC is contemplating a commitment of $20 million in the third fund. Sean says most of the investors in the first two funds will commit capital in the third fund too. "Any fool with money can invest," Henry Kravis, founder, KKR, had said during one of his visits to India. "What is relevant is what he does with the company, after investing." The investors in Lighthouse funds have reasons to be happy for, in Fund 1, they had invested in 11 companies and, in Fund II, in nine companies. Of the investments in the first fund, they have Partially or fully exited in seven companies, repaid 1.7x the capital and are tracking overall 3x returns
The funds have been largely invested in consumer-facing brands. The ration ale being that with the demographic shift a lot of consumption will be moving from the unorganized sector to the organized one. Some of the companies with brands include Bikaji foods, Fab India, Kama Ayurveda, Wow Momo, Cera Sanitaryware, Capital Trust, Suraksha Diagnostics and Unibic Cookies, amongst others. Category-wise, the investments are in food & agri, personal care and life style, healthcare, housing and education. The average ticket size of investment is $5-IS million. The fund does not make a distinction between listed and non-listed companies, with some PIPE deals giving them superlative returns. Looking at some of the investee companies (see table), one can see that Lighthouse Fund has invested in the secular growth businesses in sectors such as agriculture, food, personal care & lifestyle, financial services, healthcare and building material. These businesses were riding on repeat demand and had a steady cash flow, which helped in creating value for all stakeholders. The company has a strong advisory board to provide them prudent advice and ensure strong governance. The board include Brian Larcombe, former CEO, 3i; Barbara Vogelstein, former partner, Apax Partners; and Rickard Dick Celeste, former US ambassador to India. The other members include Ravi Chaturvedi, former president with P&G; Punita LaI, former CEO, PepsiCo; Vivek Chandaria; and Shailesh Rao, former MD, Google India.
Exits
From it first fund, Lighthouse had taken a 10 percent stake in Dhanuka Agritech in 2010 for Rs.35 crore — at a time when the market cap was about RS.35O crore. Lighthouse had helped the company roll out a nationwide campaign for its agri-brands and got Amitabh Bacchan as its brand ambassador. Subsequently, its revenues tripled and profits quadrupled over the next five years. The company's market cap rose by 11x at the time of its exit in 2016, giving it a decent return of 7x (say, $50 million).
Its second big exit was from Unibic Biscuits, a Bengaluru-based premium biscuits and cookie manufacturer. Betting on the aspirational values of youngsters choosing home-grown cookies, the firm had initially invested Rs.20 crore in a subsidiary of the Australian company in 2007. Its investment continued over the years to reach Rs.42.9 crore. After assisting it with a brand and marketing overhaul, Light house realised Rs. l19.8 crore at the time of the exit, giving it a gross IRR of 18.6 percent in rupee terms, over 6.2 years. It exited by selling its stake to another private equity company, Peepul Capital, at 3x returns.
In Suraksha Diagnostic, a full- range pathology and radiology service company, Lighthouse had, amongst other things, rendered help in the recruitment of key management personnel, while also helping with the evaluation of various strategic acquisitions and PPP opportunities. Investments of Rs.30 crore in 2013 yielded 2.3x returns in rupee terms at the time of the exit after nearly four years. The shares were sold to Orbimed Private Limited.
Lighthouse has gone through six full exits and one partial exit till now.
Not all its investments have been gold mines. One partial exit was from Innoventive Industries, a BSE-Listed company, which has been in liquidation since December 2017. The 1,200 employee-strong company, which caters to multi-sectors (such as automobiles, heat exchangers, boilers, energy, oil and general engineering, through processing of various steel materials), has significant unpaid debt on its book. A plan submitted to the resolution professional under NCIT was passed by 66 percent of creditors. Lighthouse Fund was amongst the 14 creditors, which had referred the case to NCLT.
Promising portfolio
Lighthouse fund is, however, quite optimistic on several of its other investments. Sean points to Xseed Education, started by an Indian now based in Singapore, which has come out with a different method of teaching students in k-1l standards. "It is a revolutionary method of teaching- in contrast to the current memory-based one that is followed everywhere," he says, adding that "the entrepreneur, Ashish Rajpal, has trained teachers to adopt activity-based methods of teaching and devised workbooks to teach students." Till date, 80,000 teachers have been trained across 6,000 schools by 100 education consultants. More than teaching in a different manner, the highly affordablc fees of Rs.1, 200 per student has ensured that more and more kids can avail of the offer. "It is changing the life of the people," says Krishnaswamy, who is closely associated with the venture. "Teachers are overwhelmed after seeing the end results," says Sean.
Lighthouse seems to have an uncanny knack of picking winners from amongst listed companies. In Cera Sanitaryware, it had invested Rs.71 crore, by picking up shares valued at Rs.2,011 each, through a preferential issue, in 2015. These shares are currently valued at about 3,6OO. Today, the company has a market cap of Rs.4, 71O crore.
Moving ahead on aspirational brands once its basic requirements are met, the company has invested in Bikaji Foods International, a Bikaner based Snacks Company, an offshoot of India's largest ready-to-eat snack producer, Haldiram. This company, which is celebrating its silver jubilee this year, has a pan-India acceptance, with its brand valued at Rs.800 crore. Lighthouse had taken a 25 per cent stake in the company for a reported investment of Rs.120 crore from its fund II in 2016. Many of the other investments are yet to play out. "We are patient investors," says Bhartiya. "We work closely with the promoters even after we exit the investee companies," he adds.
While the funds from the second fund are fully deployed, Lighthouse has already started scouting for opportunities for investing from its third fund. Even as the fund is expected to announce the final closure shortly, it has zeroed down on one more exciting investment.
With midmarket funds like Lighthouse continuously on the prowl, one can hope to see some of the unlisted companies getting listed on the stock exchanges in the coming years, becoming the next unicorns.
(As published in Business India on Sun, February 11 2018. )